Golf retreat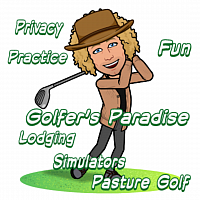 Practice, play and relax
Wanna Golf?
We offer lodging with golf decor and even a living room with putting carpet, two Foresight GC2 indoor golf simulators and an 18 hole pasture course.
 Sharpen your short game with 36 shots from 48 yards to 115yards on the pasture course. Tee off on Fiberbuilt artificial fairway tees which allow divot hits the same as real turf. 
  The GC2 simulators give club speed and ball spin. They are equipped with artificial  fairway, rough and sand trap matts to make the game as real as possible. 
  Pasture golf is free with golf loft lodging, $5 for 18 holes. This is a walk only course, no carts.
  Indoor simulators are $25/hr each or $45/hr for both.